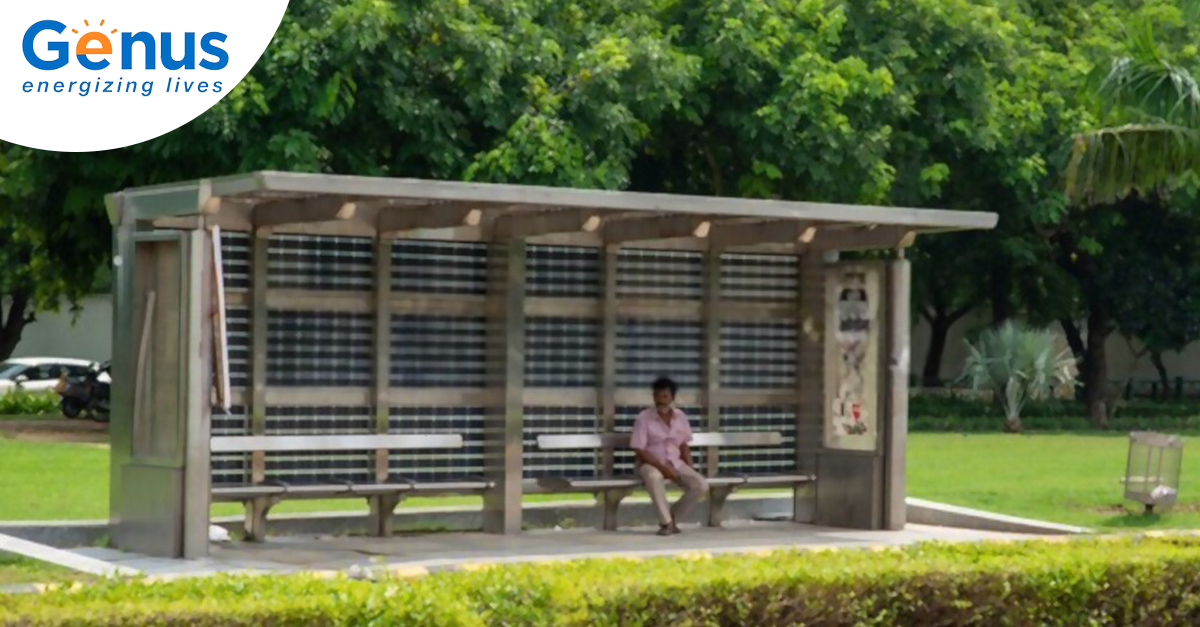 There are roughly 300 million bus stops around the world. This means that if each of these bus stops is fitted with solar panels, a significant amount of energy can be generated in an environmentally friendly and effortless manner.
However, even a single solar powered bus shelter can have a profound impact on the community, even if it is installed in a remote location with no proper utility grid. Crucially, having solar bus stops all over the country will contribute greatly towards making bus commutes pleasant. This is because there are a host of tangible benefits that accompany solar bus shelters, such as illumination in the dark, less dependence on the utility grid, and phone charging facilities.
How Solar Bus Stops Make Life Easy on The Road 
Another way solar bus stops can help the community is by having public Wi-Fi. Since the service is solar powered, the public can constantly have the pleasant experience of enjoying Wi-Fi while traveling.
Solar bus shelters are ideal even for remote locations that do not have proper access to the electricity grid. During the night, the solar system can use the energy stored from the daytime to power the LED lights at the bus stop. This functionality will ensure that the bus stop is well lit even without depending on the utility grid.
Also Read: Major Differences between On-Grid and Off-Grid Solar System
Most people nowadays have access to cell phones. While people wait at solar bus stops, they can have the opportunity of charging their mobile phones or other electronic gadgets through a clean power source, which will undoubtedly make their lives easier.
Besides, the stops can serve as charging stations for electric cars and even buses in the future. This will be a great benefit given how these bus stops will generally be installed in remote locations without much public transport.
Solar panels on top of bus stops can further be used to power sensors that can monitor traffic or the level of pollution in the air, which will be a major benefit to the passengers and commuters on the bus.
Also Read: वायु प्रदूषण को रोकने के उपाय
Solar Powered Displays and Ads
At solar bus shelters, people can be made aware of the latest travel updates and bus schedules through HD displays powered by solar energy. This is a much cheaper and more sustainable solution than depending on the utility grid to display information on screens.
Also, the transport authority can generate revenue by showing ads on the solar powered screens at smart bus stops—all with renewable and clean energy.
Also Read: A Clean, Green and Affordable Solar-Battery Combined Future Awaits India
Other Benefits to Solar Powered Bus Shelters
A lot of people in India are hesitant to take the bus because of a lack of clarity in the schedules. With solar bus stops, this is no longer an issue, as solar power can run display boards filled with schedules and other crucial travel information. Owing to this, more people will be incentivized to take the bus, leading to lesser pollution. It is also worth mentioning that solar powered security cameras at the bus stops will serve to bolster public safety.
Also Read: Can You Charge An Electric Car With Solar Energy?
Conclusion
Solar powered bus stops provide a win-win situation for the passengers and the transport authority because it is cost-effective, energy-efficient, clean, and has many other applications as well. Further, making use of solar panels to power bus stops will make the travel experience significantly better for thousands of commuters and encourage more people to take the bus. Not to mention, solar panels on bus stops can generate a lot of money for the transport authority.
Now, if you are wondering how much does it cost to build a bus stop that is powered by solar energy, look no further than Genus. Reach us for a consultation and have all your queries answered by an industry expert.