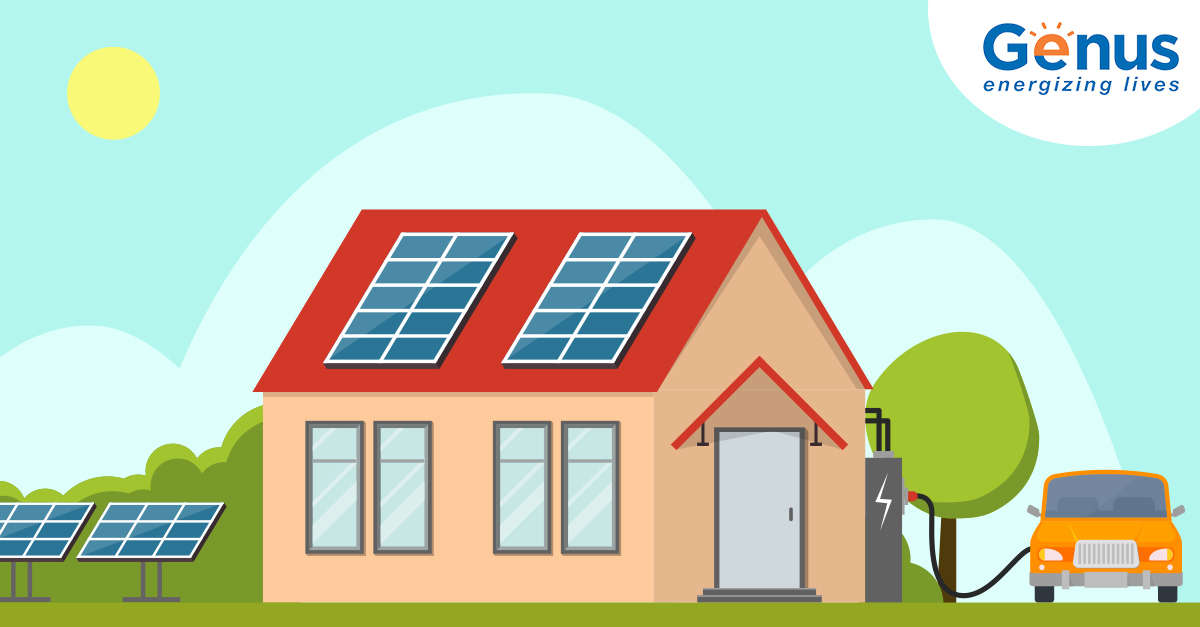 If you own an electric vehicle (EV) or are planning to get one, it makes perfect sense to install a solar-powered EV charging port at home. This is because solar panels are a great way to power your electric car; even a small solar array with 10 panels can do the trick. 
Further, the price of solar PV systems is declining rapidly, so this is the perfect time to embrace solar energy as a source of emission-free electricity for your car. If you are not yet convinced, we have put together an explainer on the different things to consider before installing solar panels for electric car charging. 
How Much Energy Does Your EV Need? 
Since electric cars with solar panels on the roof for charging are still in their nascent stage, you need to use a solar system for charging your EV as well as powering your home. 
Also Read: Future of Eco Friendly Charging Station in India
To determine the size of the solar energy system you need, you must learn about the EV's mileage rating and the amount of electricity your car will consume. 
Let Us Look at a Sample Calculation
Imagine you have the all-electric 2014 Nissan Leaf that has 30 kWh/100 miles as its fuel economy rating. This means that for driving 100 miles, the vehicle needs 30 kWh of electricity. As a result, if you go around 25 miles a day on average, you require 7.5 kWh of electricity daily. 
This means that in a year, you will require your panels to produce 2,700 kWh of electricity to fuel your EV. 
How Many Solar Panels Does It Take to Charge an EV? 
This depends largely on the EV's battery size and the efficiency of your solar panels, which may vary depending on their material, size, etc. 
To understand how to calculate the number of panels you may need to power your EV, consider the following example.
Let us make the conservative assumption that your solar panels can each produce 1 kWh of electricity daily. If you own a Tesla Model S that houses a 75 kWh battery, you will need 75 solar panels to get your battery to full capacity. But thankfully, the average driver only drives for 37 miles a day, which means that you would need only around 12 kW of electricity. This amounts to 12 solar panels. This is a realistic number, given the fact that a typical solar system has around 25-30 panels. 
Also Read:  How Solar Energy Strong Automobile Sector?
What Else Should You Bear in Mind While Considering a Solar-Powered EV Charger? 
Essentially, you need a solar inverter that can convert the solar panel's AC output to usable DC for the EV. Also, you require a battery to store the energy produced by your solar panels if you are planning on charging your EV during the night. With a home battery storage option, such as the Tesla Powerwall 2, you can store nearly 13.5 kWh of energy. Make sure that you choose a battery that can support your mileage requirements. 
Furthermore, you will need a charger and dedicated charging station either in your garage or driveway, where you can plug in the car. It is recommended to use level 2 type chargers. It will help you cut down on the charging time. Note that there are multiple options in the market, such as the 30.2 kwh li-ion battery that can make a car go 312 km on a single charge. Apart from powering the car, the single charge can also show TFT driver information, power the rear AC vents, and access the internet through an inbuilt connectivity system. You further get e-break distribution, anti-lock braking system (ABS), ISOFIX package, and child safety door locks.
Conclusion
Solar chargers are a remarkable way to fuel your EV. Even when you upgrade your car after a few years, you must ensure that you have the right type of solar inverter and number of panels. Also, if you are thinking of going solar, Genus is your best bet. You can reach out to know more about how you can install a solar system that will provide you with consistent and cost-effective electricity for your car.