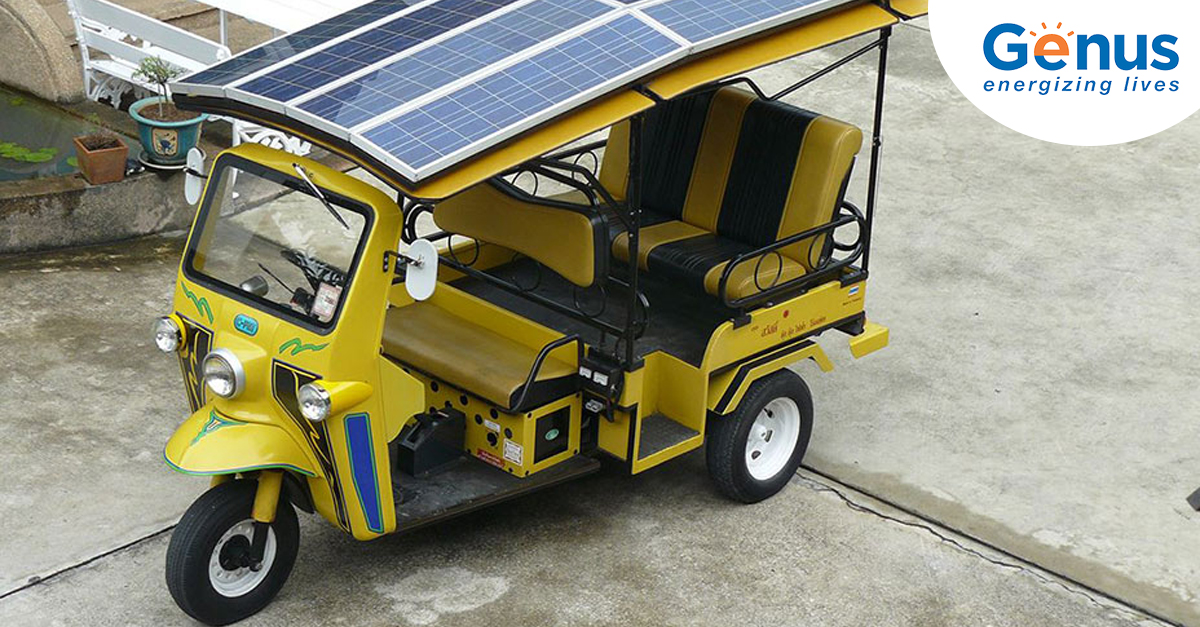 Given that rickshaws are quite common across India, making them solar-powered will go a long way in reducing emissions. But for solar electric rickshaws (e-rickshaws) to be widely adopted, users need to have a good understanding of what they are, how they work, and why they are set to become a mainstay when it comes to our road transport needs.
Let's start with the basics.
What is a Solar e-rickshaw?
Basically, a solar e-rickshaw is powered by a battery that stores electricity generated by solar panels attached to the vehicle. So, can you run an auto by using a solar panel?
It turns out, you can. The solar e rickshaw is powered by solar panels which consist of multiple solar cells that are constantly converting the sun's energy into usable electricity. However, in a country like India with a comparatively low household income, charging the e-rickshaw at home throughout the night can be expensive.
Also Read: Everything You Need to Know About Cars Powered by The Sun
There is also the issue that the electricity used to charge the solar auto rickshaw mostly comes from carbon-emitting fuel sources, such as coal. Solar inverters, like the ones made by Genus, are a great alternative to this though.
When it comes to operation, solar e-rickshaws use the output of the solar panel installed on it to turn its motor. During the times when the e-rickshaw is off/stationary, the energy from the sun goes to the battery to be stored for later.
Is the Humble Solar E-Rickshaw Here to Stay?
Generally, e-rickshaws have a low speed range and cannot move at more than 25 km/h. This brings up the question— are e-rickshaws a viable option for use across the country as a clean mode of transportation?
Also Read: Can You Charge An Electric Car With Solar Energy?
According to estimates, a single e-rickshaw can bring down yearly carbon emissions by 378357.3 tonne CO2 when compared to a CNG rickshaw. Also, the Local Governments for Sustainability and Shakti Sustainable Energy Foundation (ICLEI) have reported how e-rickshaws will help the nation reach its carbon emission targets in the long term.
It is also worth noting that there are 1.5 million e-rickshaws in operation in the country and that 11,000 new vehicles hit the road every month.
Also Read: ऑटोमोबाइल क्षेत्र को सशक्त करती सौर ऊर्जा
This is promising news for solar e-rickshaws because they are much better than conventional e-rickshaws due to their ability to self-charge. It also goes without saying that they're cleaner than regular e-rickshaws that run on electricity that is often produced from fossil fuels.
Another key benefit is the long-term affordability for the owner because the sun is a source of clean, limitless energy.
Consequently, we can say with confidence that solar electric rickshaws will be the next big thing in the e-vehicle space.
What are the Future Plans for Solar Rickshaws?
Even though there are clear guidelines on how to manufacture solar-powered e-rickshaws, they are still, in many cases, assembled by small-scale firms with cheap parts. Consequently, companies are looking to improve the solar rickshaw design to make it safer and more comfortable. This may impact the solar auto rickshaw price in India, which is currently well between INR 1, 00,000 – 2,00,000 for most brands.
Companies are further considering battery swapping as an alternative to charging. This is when the drivers replace old, depleted batteries with fully charged batteries. However, this is presently available in a cost-effective manner only for lithium-ion batteries. It can be done for lead-acid batteries as well, but the cost is quite high.
Also Read: सौर ऊर्जा पर चलने वाले ई-चार्जिंग स्टेशन और इनके फ़ायदे
To solve this issue, companies are looking at an interesting solution. E-rickshaw operators can buy the vehicle without the battery, reach out to a battery swapping service provider, and get a battery on the lease after providing a security deposit.
Conclusion
Solar-powered e-rickshaws can certainly be a viable source of livelihood for auto drivers around the country and contribute to a reduction in pollution. They are here to stay especially because e-rickshaws bring in a decent amount of revenue for their owners, as shown by a survey in Delhi that found e-rickshaws to be bringing in roughly INR 20,000 in profit for their owners. The fact that it has zero tailpipe emissions is another feather in its cap.
If you too are looking to turn your rickshaw into an electric vehicle, reach out to us.