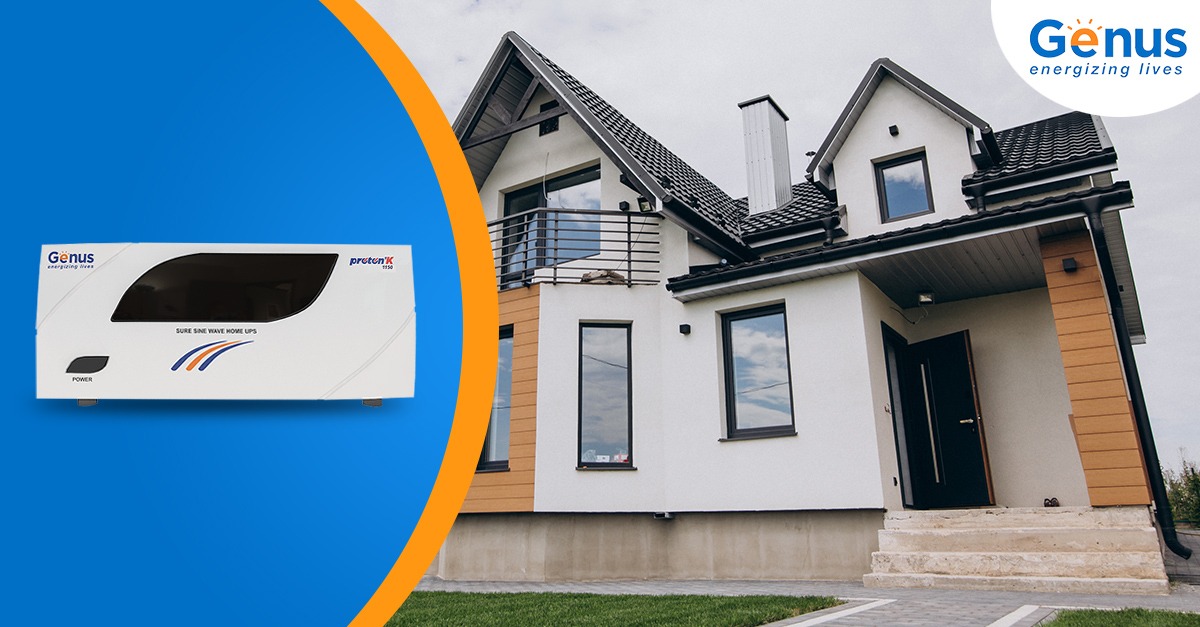 A solar inverter is one of the most crucial components of the solar energy system. It converts the DC power generated by the panel to AC power that is used by the appliances at home. Apart from getting a suitable inverter, deciding on the solar inverter location matters a lot. It could be difficult to figure out where to place the inverter in your house, especially if you are dealing with space crunch.
The efficiency of the inverter depends on the solar inverter installation and in which conditions the inverter is being kept. If you want your solar inverter to work as per its optimum capacity for a long time, you should give more thought to the inverter setup for your home.
Factors to Choose the Best Location for Inverter
Since inverters are a basic building block of the solar energy system, the solar inverter installation must be done at the most suitable location. Here are some factors that will help you with inverter fitting for your home.
Indoor or Outdoor
Placing your inverter indoors or outdoors will depend on the kind of inverter you are using. Grid-tied inverters are suitable for outdoor use but can be installed indoors as well. Off-grid inverters however don't have an IP65 waterproof rating, limiting the places where they can be installed.
Most grid-tie inverters are designed for outdoor use and come in NEMA enclosures that protect them against dirt, rain, snow, water, corrosion and other damages. So, before getting an inverter, check its NEMA rating and whether you want to install it outdoors or indoors.
Cable Distance from Panels
There is always some voltage drop between the inverter and panel. It is directly proportional to the length of the wire and inversely proportional to the width of the wire. To keep the voltage drop low, use short and wide cables and keep the solar inverter and meter as close to each other as possible.
Also Read: A Handy Guide to Solar Panel Wiring
Environmental Factors
Temperature, humidity and exposure to direct sunlight also play an important role in deciding the location of the solar inverter. Overexposure to the sun can cause overheating and reduce the efficiency of the inverter. Along with this, humidity and water vapours can also corrode the inverter and affect its life span.
Also Read: How to Decide the Location and Orientation of Solar Panels ?
Try to keep the inverter in a shaded spot, which is properly ventilated and cool as well. Not only will it protect the inverter from direct sunlight, but also keep the heat produced by the inverter away from it.
Safety
A solar inverter can cause considerable harm if someone comes in contact with it. While installing the inverter, make sure that there is enough space around it for heat dissipation and it is not placed in a narrow passageway. While mounting the inverter against a wall or on a shelf, make sure that there is at least 6 inches of free space around it for the heat to dissipate.
Maintenance
Install the solar inverter in an area which you or maintenance experts can easily reach for inspection and diagnosis. Inverters need constant maintenance to ensure they are working properly, clean, and dust-free. So, make sure that the inverter is easy to access for maintenance or emergencies.
Conclusion
By keeping the above factors in mind, you can find the best location for inverter installation at home. While the device comes with 5-10 years of warranty, it can get damaged or even stop working if it is not installed properly. Faulty connection, no heat dissipation, weak shelves, inverter fitting at home, and other factors can either reduce your inverter's lifespan or make it useless. You should also keep an eye on the inverter temperature, indicators, and sound regularly to see if something suspicious is happening with it.
Also Read: 6 Horrible Mistakes You Can Make While Buying a Branded Inverter
Caution – Inverters are electrical items and you should take safety measures to avoid any shock or disruption in the power supply. We recommend getting your inverter installed by authorized and trained personnel only. It will not only improve the life of your system, but also keep your family safe from any electrical shock.