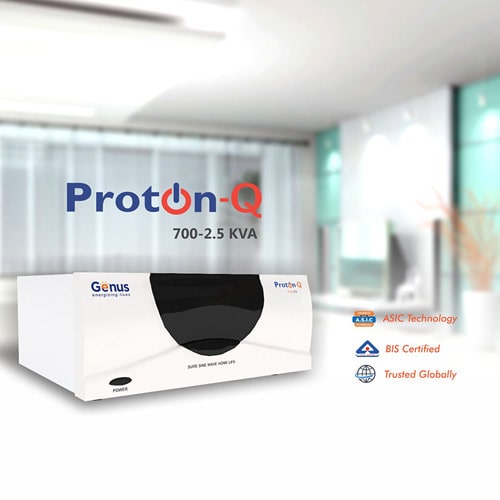 Having a power backup solution at home is essential these days if you wish to go about your daily activities in an uninterrupted manner. Power cuts, even short ones, can hamper the smooth flow of life, as all appliances and electrical equipment need the power to function. In this scenario, a good inverter is what you need. And this is the reason why choosing a Genus sine wave inverter makes perfect sense, for home use. This home UPS cum inverter has been designed based on cutting-edge DSP technology and ASIC or Auto Sense Intelligent Control. It not only provides clean and stable pure sine wave output but has a modern look that can go well with any home décor. Here are some more reasons why you should opt for Genus inverter:
Energy efficiency
The inverter comes with a DSP-based intelligent control circuit that allows the machine to react faster than conventional inverters. Hence, the amount of AC power needed for battery charging is controlled, consequently reducing power consumption. The ASIC technology also improves battery life and hence ensures energy-efficiency.
Overload regulation and quick switchover
A commendable aspect of Genus inverters is that they come with an overload regulation feature, which allows the machine to reset itself before it turns on again. The inverter will try as many as 6 times to run with the existing load and will send a warning to the user through its alarm system. This will give you ample time to reduce the load on the inverter before it shuts down.
Dual modes for different appliances
A Genus inverter features two system modes, of which you can choose with the help of a switch. One mode is the UPS mode which can be selected for sophisticated or sensitive equipment like computers, TVs, printers or scanners. The other mode is Wide UPS mode and can be used to run fans, lights, fridges, and air coolers. This way, the safety of all your appliances can be guaranteed.
Safe and easy to use
The sine wave inverters by Genus are shockproof, and hence safe for both adults and children. They are made with the best of materials and designed smartly to make installation easy, no matter how small or big the concerned home is. They are compact and feature a graphical display which is bright and easy to read. This way, you can keep a tab on the inverter's condition and performance.
Reliable for long and frequent power cuts
Genus inverters can get recharged very quickly and are hence always ready to supply distortion-free and steady power during long and frequent power cuts too. Hence, they are reliable and can also handle high in-flow current, keeping your appliances safe in the process.
If you are still wondering why you should choose a Genus sine wave inverter over others, then you should know that they are non-polluting and hence, good for the environment. They operate noiselessly, last long and are very cost-effective too. Moreover, these inverters can keep charging even when the voltage is low so that you receive unhindered power supply even when there is a complete blackout. Hence, if you wish to choose reliability, efficiency, safety and modern looks, go with Genus.