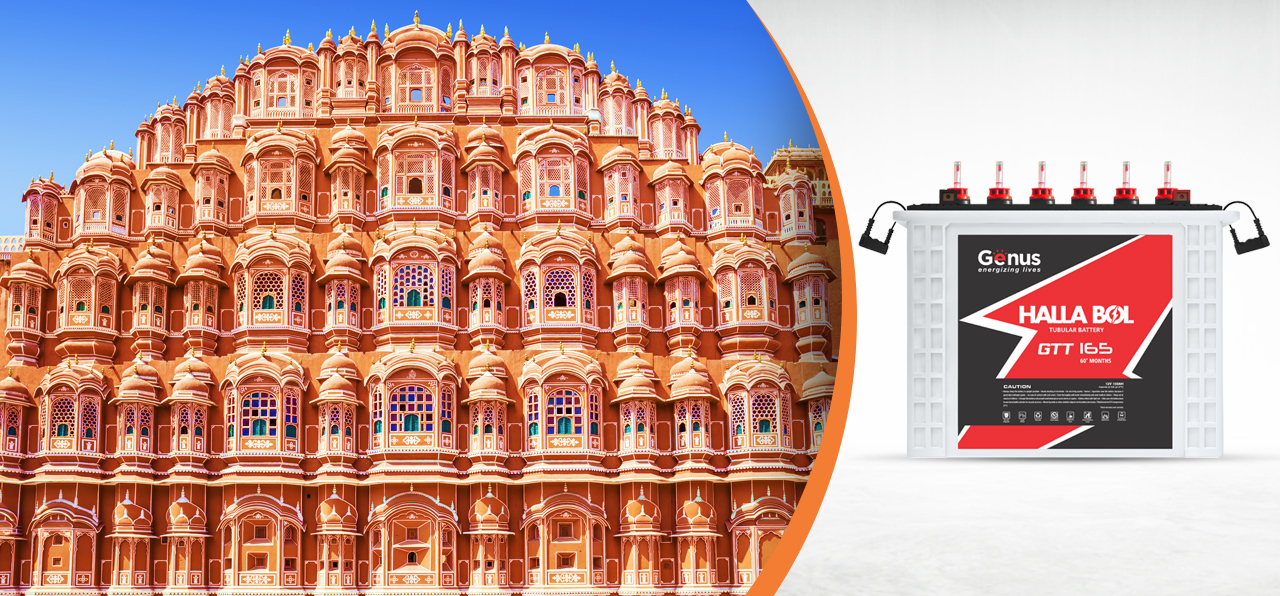 Inverters have emerged as an essential part of everyday life today, especially if you don't want all your work to come to a standstill when there is a power outage. From running lights and fans to kitchen appliances, computers and elevators, nothing can be done without power. And to run an inverter efficiently, the right batteries are vital. So, how do you pick up a battery that doesn't burn a hole in your pocket and is yet efficient and long-lasting? Here is a look at the different kinds of inverter batteries available in Jaipur, so that you can compare and choose one that suits your needs and budget the best.
Tall Tubular Battery – These batteries are your best bet when you want something that will supply power consistently and cleanly no matter how long or frequent the power cuts are. Tall tubular batteries have a long life and they need low maintenance as well, due to high acid volumes. Easily available, these batteries are affordable, can function well even at high temperatures, and are resistant to corrosion too. Tall tubular batteries are a wise choice as they charge quickly, have excellent deep discharge recovery, and can be safely used for heavy duty applications. They work well with both grid and solar setups, cause zero pollution and work in a noiseless manner. You can expect adequate warranty on these batteries and you can monitor their performance easily, thanks to the electrolyte level indicators.
Short Tubular Battery / Jumbo Tubular Battery – These batteries are as reliable, durable and efficient as the tall tubular batteries. And they are easy on your pocket as well. The only difference is that they are short in height, and hence can fit in small spaces very easily. Just like their tall counterparts, these short batteries work quietly, are eco-friendly, don't overheat and get charged quickly. So, even during frequent power cuts, you will always have access to enough power to carry out essential activities.
Flat Plate Lead Acid Battery/ Normal Lead Acid Battery – Also known as normal lead acid batteries these were popular once but have a short service life and need high maintenance too. They are smaller than tubular batteries and slightly cheaper but they are less capable of accepting and producing current. If you live in an area which experiences short or few power cuts, you can try using these flat plate batteries. However, do note that these batteries have low efficiency, and can release harmful gases which are not ideal for the environment or the people around.
VRLA battery / SMF Battery – These batteries are expensive and last as long as a normal lead-acid battery. However, they are less efficient and less lasting than tubular batteries. Though they need zero maintenance, VRLA batteries cannot withstand overcharging. Moreover, they are better for low-end applications, unlike tubular batteries that can handle heavy-duty applications well. Hence, VRLA batteries are not usually recommended for Indian households or commercial establishments.
All in all, picking the right battery in Jaipur depends on what applications you have in mind, how much you are willing to spend, and what kind of efficiency and reliability you need. So, while flat plate lead-acid batteries can be used in places which get short or infrequent power cuts, most parts of India will need tubular batteries. The best part about tubular batteries is that they are worth your money, long-lasting, highly efficient and can be conveniently used in hotels, shops, schools, hospitals, and offices. So, compare the pros and cons of the different batteries discussed above, read reviews and choose a manufacturer who is reputed and can be trusted.