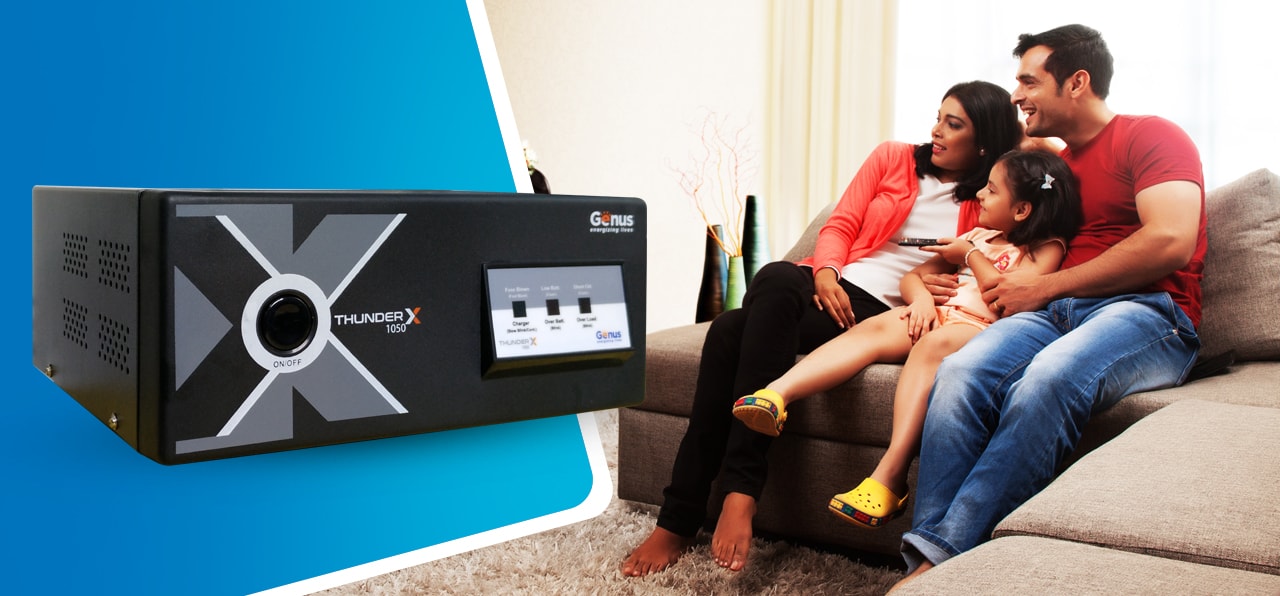 Tired of power cuts ruining your day to day life and important chores?
Bring home the new Genus Thunder X to enjoy a steady supply of clean and adequate power, which can run lights, fans, TV, and even delicate equipment like a computer. Equipped with advanced ARM controller based technology that ensures maximum efficiency, this inverter is an aesthetic and affordable purchase for any modern home or office. With Thunder in your life, you won't need any other power backup solution! Whether you wish to use tubular batteries or lead-acid ones, this inverter will go well with all types. It also keeps your utility bills nice and low and charges fast. This way, you won't have to put up with darkness no matter how long or frequent those power outages get. As Thunder X can get charged at very low voltages too, your battery will be ready at all times.
Many benefits of using Genus Thunder X
Cutting-edge technologies – The reason why the new Thunder X gives you clear, consistent power at all times, is because of the innovative ARM controller based technology. The same technology also makes sure that the inverter saves on your electricity bill and reduces carbon footprint. And of course, the inverter comes with Genus's ASIC technology that contributes to superb battery performance and long life.
Ease of usage – Thunder X is compact and hence easy to install wherever you deem fit. It doesn't ruin your home or office décor and is safe as well. So, you won't need to worry about bringing this inverter home even if you have kids or pets. IS certification reinforces the safety of the inverter. The graphical LED display is a huge plus in this inverter as it allows you to track the battery charge and inverter performance.
Reliability and durability – Genus Thunder X has the power to handle the high current influx, even up to 300% of its original capacity. Naturally, it protects your sensitive appliances with the utmost ease. Varied voltage conditions don't impact the functioning of the inverter, and it is resistant to inclement weather as well. In other words, whether you need to run a simple household appliance or a large factory appliance (within the rated capacity of the inverter), you can expect the same performance always.
Smooth and smart switchover – The brand new smart sensing technology in these inverters makes it easy to switch from main to the battery when there is a power cut. The reverse also holds true. This ensures that none of your tasks gets hampered when the voltage fluctuates. For example, if you are working on your computer and you suddenly lose power, the inverter will instantly switch to battery mode so that you don't lose the work that you have done till now.
Overload protection – Are you stuck with an inverter that immediately shuts off when there is an overload? Then buy Genus Thunder X for a welcome change. It will try to run the existing load 5 times, while you get repeated alarms, a warning to reduce the load. This way, you can prevent a system shutdown as you will have ample time to diminish the load.
Finally 
Apart from all the advantages discussed above, the all-new Thunder X is also eco-friendly and emits no harmful gases. It operates without any noise and is perfect for any environment, be it a home, office, small shop, hotel or clinic. Plus, you can choose from multiple charging currents based on the load requirement and battery. So, invest in Genus Thunder X today and never give up power again!