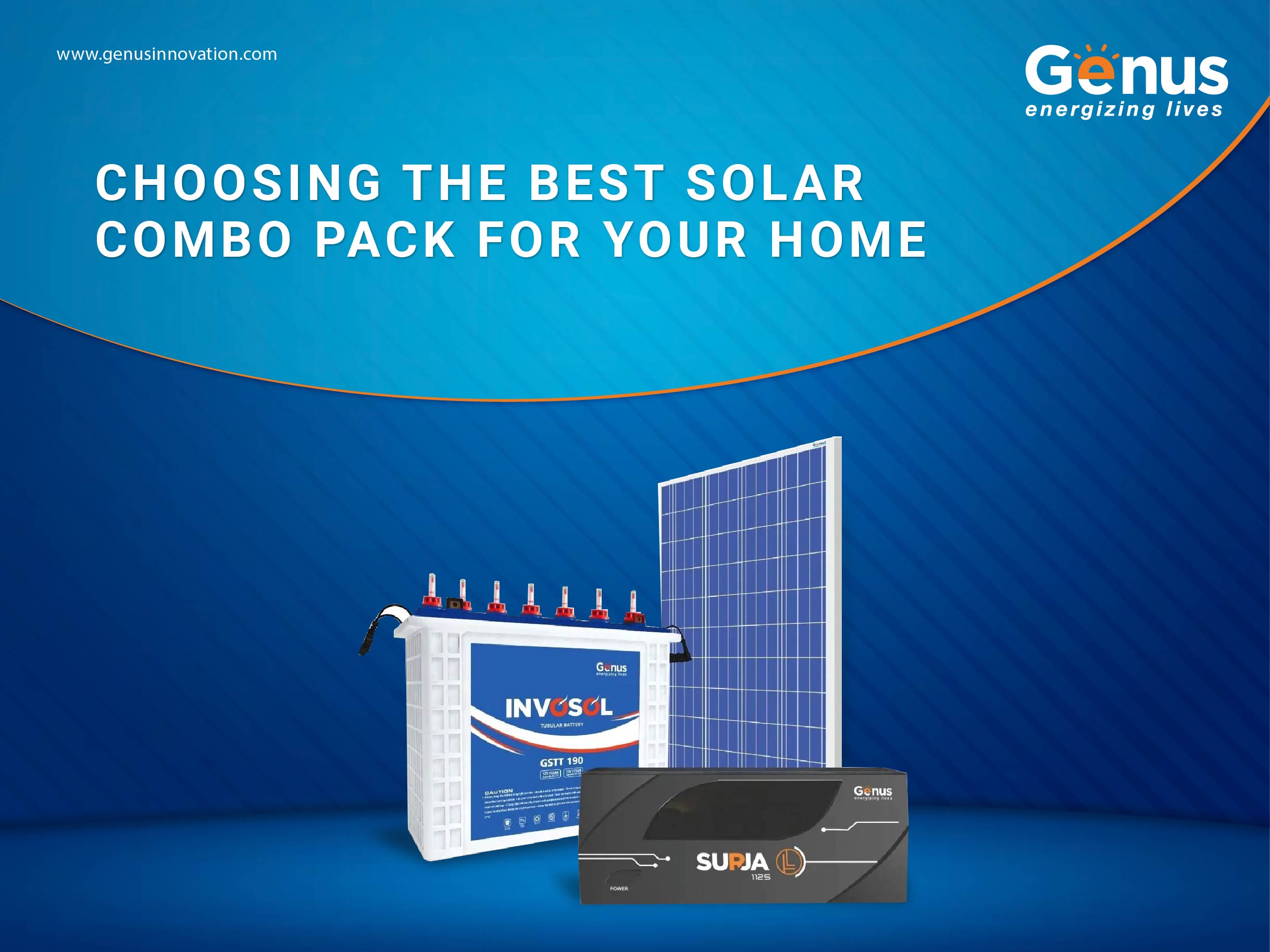 In recent years, the demand for an effective and efficient solar combo pack for homes and offices has been increasing as more people are becoming conscious of switching to clean and renewable energy sources. When making a shift to a solar power generation system, buying a solar combo that fits your energy needs can save you a lot of hassle.
A solar energy combo is an all-in-one solution that includes a solar panel, an inverter, and batteries that work together to power your home with solar energy. However, with so many options available in the market, it can become a bit overwhelming for new users like you to pick the right solar system combo for your home.
That is why we have put together this blog to help users select the best solar combo according to their unique situations, including power requirements, the size of their home, and budget. In this blog, we will explore the three best solar combos for houses, taking into account factors such as efficiency, durability, and affordability. Read this blog to understand what goes behind choosing the best solar combo pack for home or office settings.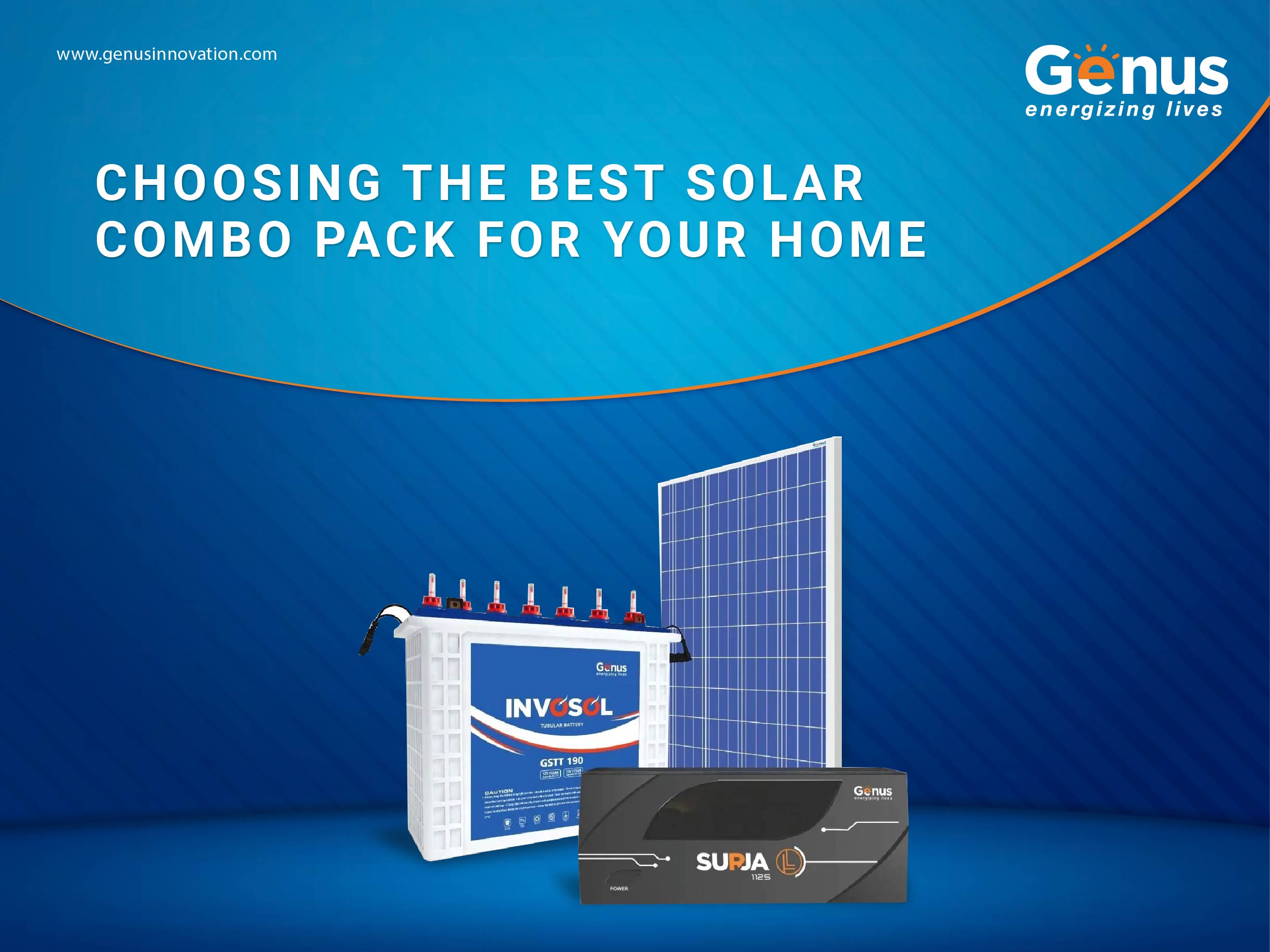 Best Solar Combo Pack For Your Home
The Genus Solar Combo with Surja Pro 1150 Solar UPS, GTT240 Tall Tubular Battery and 165 W Solar Panels is a top-of-the-line power solution suitable for both for home and offices. This combo is best suited for regions with frequent power outages.
This tubular battery, inverter and solar panel combo has an inverter capacity of 900VA with a GTT240 Tall Tubular Battery is a deep cycle battery with a capacity of 150 Ah. This battery is designed to provide reliable and long-lasting power backup, even in extreme weather conditions. The tubular design of the battery ensures high durability and low maintenance, making it a perfect choice for solar power systems.
The Surja Pro 1150 Solar UPS, GTT240 Tall Tubular Battery, and 165 W Solar Panels provide a complete and affordable solar solution for homes and offices. The system is easy to install and requires minimal maintenance, making it a perfect choice for those looking to switch to solar power.
The Genus Solar Combo with Surja Pro 3200 Solar UPS, GSTT190 Tall Tubular Battery, and 390 Watt Mono PERC Solar Panel is an ideal solution for powering homes and offices in areas with frequent power outages or where electricity is not readily available. This solar combo offers a reliable and affordable solution to power backup needs with its state-of-the-art technology.
The advantages of installing this solar combo include a reduction in electricity bills, an uninterrupted power supply, and an increase in the value of your property. It also requires low maintenance and has a long lifespan, making it a cost-effective solution in the long run.
The solar tubular battery provides long-lasting backup power, ensuring an uninterrupted electricity supply, and the high-quality solar panel offers maximum efficiency while offering the capability to withstand harsh weather conditions. All in all, this solar combo pack is an excellent investment for those looking to switch to a sustainable and reliable energy source.
This solar combo pack is a brilliant combination of superior technology and energy efficiency.
The tubular battery, with its high acid volume per ampere-hour, ensures a longer battery life and exceptional performance in extreme weather conditions. The 165 Watt solar panel generates ample power to run basic household appliances, making it a great investment for those looking to save on electricity bills.
Moreover, this solar combo is easy to install, thanks to its user-friendly design, and requires minimal maintenance, making it a perfect choice. Overall, this solar combo is an exceptional and affordable solution that offers energy efficiency, reliability, and environmental sustainability for households and offices alike.
Choosing the Best Solar Combo For Your Home
By investing in the right solar combo pack, you can enjoy a range of advantages, including energy independence, reduced electricity bills, and contributing to reducing your carbon footprint. Installing a solar power system adds value to your property and is a sustainable investment that will benefit you for years to come.
Choosing a solar combo that meets your energy requirements and budget is vital, and the Genus Solar Combo is an affordable and efficient solution. Order now from Genus Innovation and enjoy the benefits of renewable energy today!